A little late on my review - but can I get a wha wha, for Billy's return to the Academy Awards! I have to say he may not have been the most hilarious of the evening (Chris Rock and Emma Stone took the cake for me - ok Jim Rash's Angelina impression did) BUT Crystal does add a dose of nostalgia to the event, something I find comforting amidst an award season full of over-the-top dance numbers and fake exorcisms.
His opening skit brought me back to the year of the Titanic, my first memory of watching the Oscars at the age of 9. His jokes - while not always getting a rise from the room - were tasteful, charming and oh so Crystal: "

Nothing can take the sting out of the word's economic problems like watching rich people give each other golden statues."
Billy makes me feel like that 9 year old girl (especially with the Bieber incorporation), mesmerized by the magic of movies, comforted and ok I will admit a tad bored.
I thought the "magic of the movies' theme was well carried out, in the vignettes, Cirque performance and Crystals bits. Some presenters really shined - Rock, Stone, Bullock and my Bridesmaids ladies lifted the night.
All in all I was entertained, rarely surprised (except Meryl's win over Viola, which was semi-disappointing, but Hey its Meryl Streep) and obviously I cried.. you'll learn that's not much of a rarity.
My two fave - tear jerker - moments have to be fellow canuck Christopher Plummer's acceptance for Best Actor in a Supporting Role for the 'Beginners.' This was a great film and Plummer was heartbreakingly witty and oh so loveable.
Also,

Asghar Farhadi's poignant acceptance for 'A Seperation' as best Foreign Language Film.
As far as the red carpet goes, I wasn't gobsmacked by anything (outside of Angelina's leg) but here's some of my fave looks from the evening:
Stacy Keibler in Marchesa
Rooney Mara in Givenchy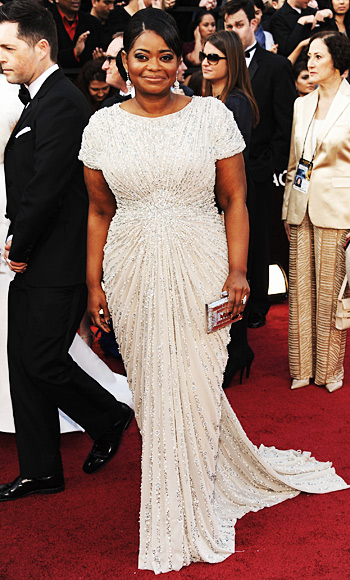 Octavia Spencer in Tadashi Shoji
Pharrell Williams in Lanvin