Depends are on. Tickets booked. Yes, folks i'm so excited I could pee my pants - ONE WEEK until the Hunger Games. Unless you've been living under a rock, you've probably heard all about the books, the story, the trilogy and now the movies.
With 80 weeks atop the NY Times Bestseller's list, the first instalment of Suzanne Collins' trilogy is set to do big numbers at the box office - selling more pre-sale tickets than any other movie in

U.S. movie-ticket site

Fandango.com

's 12-year history.
I'm a huge fan of the novels so my fingers are crossed that the film does the book justice and thus far t
he buzz has been good, it looks promising... So check out the Hunger Games in theatres March 23.
On another note, Hunger Games star Jennifer Lawrence has been keeping my hopes alive with her gorgeous premier garbs. She looked stunning in the
Prabal Gurung gold cut-out gown at the LA Premier.
The Oscar-Nominee and semi-newby to the red carpets has been doing it right since her 2011 Oscar apprance. She always looks gorgeous, but still fun and age-appropriate something that many young starlets don't seem to get.
May the odds continue to be in her favour!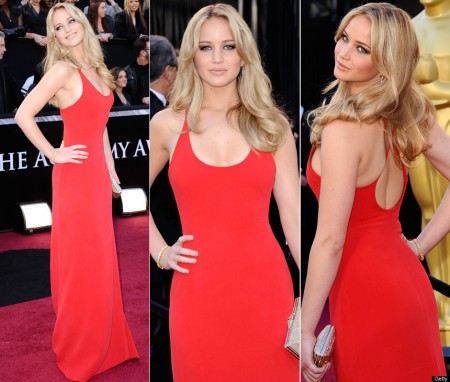 Lawrence in Calvin Klein at the 2011 Oscars